Devon, PA – May 24, 2014 – Sixteen-year-old Victoria Colvin of Loxahatchee, FL, added several accolades to a long list of accomplishments in her junior riding career this weekend competing at the 2014 Devon Horse Show & Country Fair. Colvin was Best Child Rider on a Horse for the fourth year in a row after taking multiple championship titles, including the Grand Junior Hunter Championship with Dr. Betsee Parker's Way Cool. Showcasing the best horses and riders in the country, the Devon Horse Show hosts 11 days of top-tier competition across multiple breeds and disciplines in Devon, PA, through Sunday, June 1.
Showing over two days, Colvin guided Way Cool to Devon's 2014 Grand Junior Hunter Championship, sponsored by Courtyard Marriott. For the win, they were awarded the "Ovation" Perpetual Trophy donated by Dr. Betsee Parker. Way Cool, a 12-year-old Hanoverian gelding, won all three classes over fences in the Large Junior Hunter 16-17 division with high scores of 92, 95, and 93, to take top honors. He was also overall Large Junior Hunter Champion and was then awarded the Angelo Perpetual Trophy donated by the Miller-Dinan Family as the horse who, in the opinion of the judges, best exemplifies the classic hunter horse in movement, jumping, style and presence.
For her success aboard Way Cool, in addition to wins aboard Parker's Canadian Blue, Inclusive, and Ovation, Colvin was named Best Child Rider on a Horse, an award sponsored by the Peacock Family. She was champion with Canadian Blue and reserve champion with Ovation in the Small Junior Hunter 16 & 17 as well as champion with Way Cool and reserve champion with Inclusive in the Large Junior Hunter 16 & 17.
Colvin also won the Best Child Rider award three consecutive years in 2011, 2012 and 2013, and retired the original trophy. This year, Dr. Betsee Parker donated a new trophy that turned out to have a lot of Devon history. The 1902 Edward T. Stotesbury Perpetual Trophy was found, purchased and returned to Devon from many years past.
"A friend of mine that is a silver dealer in New York found the trophy at an auction, and I jumped at the chance immediately and bought it," Parker detailed. "Historically, it is so important for the legacy of these kinds of shows, to preserve these pieces. It was originally for the Ladies Champion Hunter and it is still engraved, which seems so unusual 115 years later. Not only is finding the trophy a piece of very significant history for Devon, but it is also significant that for the first time in Devon's long history, a child has won Best Child Rider four years in a row. That has never happened before."
For Colvin, earning the Best Child Rider honor four years in a row, retiring the first trophy and then winning the next, was an incredible accomplishment. "I never thought that would happen," the rider acknowledged. "It is amazing. I have had dreams about doing this, but I didn't think they would come true."
Although she has a room full of ribbons and trophies at home, continuing to win and build relationships with her horse's is always important to Colvin, and she takes her improvement as well as theirs very seriously.
"I am completely different from when I won it the first time," she said of the honor. "I have the same horses though, and they are still good; they still love this show. I have gotten to know them all much better. I think I have gotten to know their quirks, and how they go, and when they are happy and not every day. In the mornings, I love to ride them to feel how they are."
Recalling her winning rounds with Way Cool, Colvin remarked, "This year he was probably the best he has ever been I think. All three rounds, he was spot on. He was really great. I thought he would get a little distracted by the crowd, but he wasn't fazed by it at all."
Way Cool showed last week in Kentucky as preparation for Devon and has had an easy schedule this spring since competing in Florida over the winter. "We didn't want to use him too much because he has been really good," Colvin said. "He has had a nice paddock life for a little bit, and I think that made him very happy."
Colvin's other champion mount Canadian Blue also had a fantastic weekend, winning two classes over fences.
"I think he likes this show," she noted. "Last year he was also really good here. Yesterday he was amazing in his one round. He got a little nervous in his handy today; I think he was excited. He did a jumper turn, but he got so much better in the stake round and he just rose to the occasion here."
Taking the reserve championship in the large division was especially meaningful for Colvin and Parker with Inclusive, who is coming off of a year-long break due to problems with Sciatica.
"Inclusive hasn't really shown all year," Colvin explained. "He has been resting, and we thought it would be good for him to come out and show at Devon. He was also really good. I think he really loves this show. He got a little quick, but he jumped amazing."
Parker explained that she decided to give Colvin the responsibility of taking care of Inclusive and bringing him back to top form after his rest. The rider stepped up to the challenge.
"Tori is demonstrating so many qualities as a well-rounded horseman that I wanted her to take him on as a project and manage his coming back," she stated. "We were delighted today that he was reserve champion in his comeback at Devon. I think Ken and Scott and I have increasingly attempted to hand reins to Tori in all matters of horse management, because she has demonstrated a readiness. I think it is the true mark of a great trainer such as Scott Stewart that he wishes for his rider to be even better than he was. Scott recognizes Tori's unusual gift, and he gives her so very many opportunities to call the shots now, and she does such an incredible job at it. We are thrilled with how she has taken on that very big responsibility."
"The team teaching and combined efforts of George Morris, Missy Clark, and especially Scott Stewart and Ken Berkley have made this moment in history possible," Parker added. "All of them should be given credit for helping this tremendous talent to come forward. We really had a lot of impressive competition for Best Child Rider, and Hunter Holloway and Don Stewart did a remarkable job as well."
JUMPERS
On Saturday evening, Addison Gierkink of Harpswell, ME, guided Candy Tribble and Windsor Show Stable's Promised Land to victory in the $20,000 Show Jumping Hall of Fame Junior Jumper Classic to earn the Second Marie Cramp Hill Memorial Challenge Trophy donated by her grandchildren. Twenty three entries showed over the Olaf Petersen, Jr. (GER) designed course with four advancing to the jump-off. Gierkink and Promised Land had the fastest of three double clear rounds in 40.88 seconds.

Michael Hughes and Christina Fried's Luxina finished second in 43.15 seconds, and Virginia Ingram and Riverview Farm LLC's Urban placed third in 44.86 seconds. Lillie Keenan and Chansonette Farm LLC's Balance had eight faults in the jump-off in 42.78 seconds to finish fourth.
Concluding two great days of Junior Jumper competition, 14-year-old Giavanna Rinaldi of Wayne, IL, earned the overall Junior Jumper Championship to win the Barry G. Balmer Memorial Trophy donated by Blair Balmer. Lucy Deslauriers was the reserve champion.
Rinaldi also earned the Leading Junior Jumper Rider Award, sponsored by The Capital Grille King of Prussia, and was presented with the Second Richard W. Atkinson Memorial Challenge Trophy donated by The Atkinson Family.
Just last year, Rinaldi was still riding in the pony divisions and stepped up quickly training with the Jayne Family at Our Day Farm. She won her first grand prix in Florida this April and was excited to have a very successful weekend at Devon with her horse G.P.S. Brilliant Disguise.

"It just feels so amazing because I never thought I would get this far in the Junior Jumpers, especially at Devon," Rinaldi stated. "I did the juniors over the winter at WEF and that went really well. I was just so happy how things went."


Talking about G.P.S. Brilliant Disguise, better known as 'Hugo' in the barn, Rinaldi smiled. "He has the best personality ever. He is so fun to be around, and he makes me happy."
She bought Hugo just over a year ago from Hunter Holloway. "We saw him in Ocala last year, and he just really stood out. He needs a strong rider with a lot of arm because he gets really excited, but if you pull him back too much, he falls behind your leg. It is kind of getting used to something like that, but he is really straight forward. He is such a nice horse and I love him."
JUNIOR HUNTER CHAMPIONS
Overall Small Junior Hunter Champion, sponsored by Courtyard Marriott – Hays Investment Corporation's Lyons Creek Bellini and Hunter Holloway
Awarded the Milton Kulp, Jr. Challenge Trophy donated by Mr. & Mrs. Harold Rothstein
Small Junior Hunter 16 & 17, sponsored by Meridian Partners LLC – Dr. Betsee Parker's Canadian Blue and Victoria Colvin
Awarded the Captains Perpetual Trophy donated by The Hill & Lark Families
Reserve Champion – Dr. Betsee Parker's Ovation and Victoria Colvin
Small Junior Hunter 15 & Under – Hays Investment Corporation's Lyons Creek Bellini and Hunter Holloway
Awarded the John J. Moran Memorial Perpetual Trophy donated by Pat Moran
Reserve Champion – Akinda and Victoria Press
Overall Large Junior Hunter Champion, sponsored by Courtyard Marriott – Dr. Betsee Parker's Way Cool and Victoria Colvin
The Lestat Memorial Perpetual Trophy donate by Miss Alison G. Firestone
Large Junior Hunter 16 & 17 – Dr. Betsee Parker's Way Cool and Victoria Colvin
Awarded the Carter R. Buller Perpetual Trophy donated by his family
Reserve Champion – Dr. Betsee Parker's Inclusive and Victoria Colvin
Large Junior Hunter 15 & Under Champion – Hays Investment Corporation's Cascina and Hunter Holloway
Awarded the Martin F. Bucko Family Perpetual Trophy donated by Martin F. and Laurie F. Bucko
Reserve Champion – Happenstance and Bergen Sanderford
PONY HUNTER CHAMPIONS
Devon Grand Pony Hunter Champion – Spellbound and Bernadette Chungunco
Awarded the Wizard of Oz Challenge Trophy donated by Susan and Nancy Burr
Best Child Rider on a Pony, sponsored by Vintage Oaks Horse Farm – Bernadette Chungunco
Awarded the Dresden Challenge Trophy donated by Friends of Mr. Gerald Goldman
Small Pony Hunter Champion – Peacock Ridge LLC's Rollingwoods Knee Deep and Zayna Rizvi
Awarded the Chocolate Drop Challenge Trophy donated by Mrs. William Sellers & Mrs. J. Hall Glass
Reserve Champion – Pretty Penny Farm's Armani and Caroline Passarelli
Medium Pony Hunter Champion – Redfield Farm's Sassafras Creek and Devin Seek
Awarded the "Lucky Too" Perpetual Trophy donated by Rachael Herkowitz
Reserve Champion – Scott Stewart's Show Me Love and Natalie Jayne
Large Pony Hunter Champion – Spellbound and Bernadette Chungunco
Awarded the Pride N' Joy Perpetual Trophy donated by Alexandra and Erich Meyer
Reserve Champion – Loose Buttons and Madeline Schaefer
Pony Sportsmanship Award, sponsored by the Peacock Family – Grace Boston
Awarded the Beatrice M. Marshall Sportsmanship Award
Another special award was presented on Saturday night to Virginia Ingram of Franklin, TN. She earned the Shalanno Style of Riding Award sponsored by Shalanno Farm LLC.
The 2014 Devon Horse Show and Country Fair will continue on Sunday with Carriage Pleasure Driving and Pony and Adult Jumper competition. For full results, please visit www.devonhorseshow.org.
For those unable to attend the Devon Horse Show in person, the Dixon Oval is being live streamed on the USEF Network.

Shownet will be shooting individual video clips for purchase through the website www.shownet.bizof both the Dixon Oval and Gold Ring. If you have any questions, please contact info@shownet.bizor ask for Tony in the exhibitor lounge at the side gate.
Less Than a Week Left to Bid in Online Auction
By Caroline Goldstein
Don't miss your chance to bid on some exceptional items that are up for auction to benefit the Devon Horse Show and Country Fair Foundation. The online auction runs until Friday, May 30th, at midnight, and the auction has raised $13,000 so far! To place a bid, go to: https://www.BiddingForGood.com/DevonHorseShow.
Items up for auction include gift baskets and merchandise from local businesses, as well as unique experiences and world-class vacations, said Chairman Erich Barchi.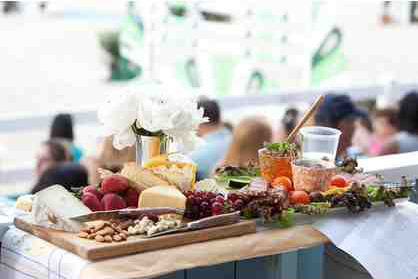 A few of the unique items are eight days and seven nights at the Fairmont Mara Safari Club in Kenya; two round trip business class tickets to any Lufthansa European getaway, donated by Devon sponsor, Lufthansa; an America's Cup yacht experience in San Diego; a front row box in the Main Grandstand and VIP parking passes for the 2014 Grand Prix of Devon, also included is light fare by the Capital Grille King of Prussia and a private tour of the show grounds with Horse Show president Sarah Coxe Lange; an idyllic carriage ride through the Chester County countryside with dinner for six donated by Dr. Donald Rosato; and cocktails and a four course dinner for 10 in your home donated by J. Scott Catering.
This year's auction has been organized by the Young Devonaires, a new committee whose goal is to reach out to a younger generation and encourage those who would like opportunities to be more actively involved with Devon. "The Young Devonaires volunteered to run the auction this year because each member of our committee has a long history with the show and is passionate about helping provide for its future," Barchi noted.
With all proceeds from the online auction benefiting the Devon Horse Show and Country Fair Foundation, the Young Devonaires hope to raise not only money, but also awareness about the Foundation's work. "The Foundation owns and maintains the show grounds. Donating to the Foundation helps ensure that the show and its storied legacy and traditions continue for generations to come," Barchi said. "By participating, you are directly supporting the Foundation in its efforts to preserve this cherished community icon!"
About The Devon Horse Show & Country Fair
May 22 – June 1, 2014
The Devon Horse Show on Facebook
The Devon Horse Show on Twitter: @devon1896
The Devon Horse Show on Instagram: @devon1896
The Devon Show Horse Show & Country Fair, founded in 1896, is the nation's oldest and largest multi-breed outdoor horse show. It is one of 16 United States Equestrian Federation (USEF) Heritage Competitions. The 11-day event attracts over 100,000 visitors annually and is one of the largest volunteer based fundraising events in the country. Proceeds from the event benefit Bryn Mawr Hospital. While attracting top competitors from around the world for events such as the $100,000 Grand Prix of Devon (Thurs., May 29), the event remains one of Philadelphia's premiere traditions, offering great food, boutique shopping, and rides, games, and events for the whole family. Tickets are on sale now, click HERE to purchase!