Wellington, FL – February 27, 2015 – The 2015 Winter Equestrian Festival (WEF) hosted its $100,000 Nations Cup, presented by Kingsland Equestrian, on Friday evening with a victory for the home team at the Palm Beach International Equestrian Center (PBIEC) in Wellington, FL. Teams representing 9 different countries participated in the competition with a win for Team USA over Canada in second and Ireland in third.
The Winter Equestrian Festival's eighth week features CSIO 4* competition through March 1 at PBIEC. Upcoming highlights include the $34,000 Nutrena 1.45m Jumper Classic, $25,000 Suncast® 1.50m Championship Jumper Classic and Hollow Creek Farm Children's, Junior and Young Rider Nations Cup classes on Saturday – Watch the live stream here: http://bit.ly/1BZc35G – and the Hollow Creek Farm Children's, Junior and Young Rider Grand Prix classes followed by the $150,000 Grand Prix CSIO 4* presented by Lugano Diamonds on Sunday, which will be live streamed here: http://bit.ly/1wrDbZB.
Friday's Nations Cup consisted of two rounds shown over a course set by USA's Anthony D'Ambrosio. Teams of four represented the nations of USA, France, Mexico, Brazil, Ireland, Venezuela, Colombia, Argentina, and Canada. After the first round, each team dropped their highest score. In the second round, the top six teams returned in order of highest to lowest total faults. The winner was determined by the lowest total of each team's top three riders from each round.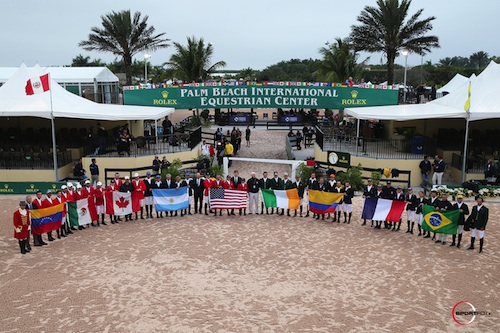 The winning team from the United States included Todd Minikus riding Two Swans Farms' Babalou 41, Candice King aboard Bellissimo LLC's Kismet 50, Margie Engle with Elm Rock Partners LLC's Royce and McLain Ward with Double H Farm's HH Carlos Z, led by Chef d'Equipe Robert Ridland. The team had a perfect score of zero in round one and finished on eight faults in round two.
Minikus was the first competitor to jump for team USA in each round and scored double clear rounds with Babalou 41, a ten-year-old Oldenburg mare by Balou du Rouet x Silvio I. King and Kismet 50, a 14-year-old Belgian Warmblood mare (Kannan x Furioso II), jumped clear in round one and had one rail down in round two. After clearing round one, Engle added four faults to the tally in round two with Royce, an 11-year-old Oldenburg stallion (Café au Lait x Grandilot). As the anchor rider following great rounds from their teammates, Ward and HH Carlos Z never had to jump.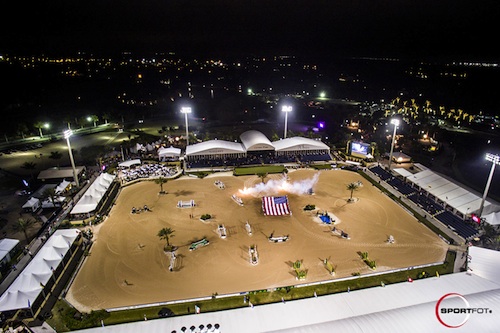 After coaching his team to victory, Robert Ridland proudly spoke of their success. "We have always said that winning our own Nations Cup is one of our biggest priorities," Ridland said. "We won it two years ago, and we won it again tonight. We had a good performance two weeks ago and won the points in the league, but this is where we have had a Nations Cup with longstanding tradition and great crowds. What was really gratifying was to do these relatively back-to-back Nations Cups with eight different riders and eight different horses. We saw the depth of our team out there, and that is what we are trying to go for in the future. I could not be happier."
Commenting on the team's lead throughout the competition, Ridland noted, "I wasn't really sure what was happening because we are so used to being in the hole after the first round and having these amazing comebacks. I wasn't really sure what to do when we came out like that in the first round. We were discussing strategy with McLain, and he hadn't even gotten on his horse yet. It's a nice feeling. I thought that we really did have a strong team. It was a good 1.60m course; it was a Nations Cup 1.60m, so there are always compromises. It was a real course and the real courses tend to favor the stronger teams, so I felt that was an advantage for us. I think that had a lot to do with the fact that we had the lead so early and we were able to maintain it. It's nice to not have to have a rider go; it is quite stress free."
Leading his team to victory, Minikus was on a less experienced horse in Babalou 41, but he had great confidence in his horse's talent going in.
"Obviously, Quality Girl has been my number one horse for the past two years, but I asked Robert permission to use Babalou in this Nations Cup and he was kind enough to agree that was okay," Minikus detailed. "Although she is quite green, I think she has a big future and I wanted her to get this exposure and this experience, and that worked out quite well for her. I am very proud of her and I want to thank Robert for believing in us and saying yes when I asked to use her. I was very appreciative of that, and she went fabulous tonight."
"A friend of mine, Stewart Moran, owned Babalou and I have been showing her since she was a six-year-old doing two years of schooling jumpers with her," Minikus continued. "She was not that easy and she was very exuberant about her jump and over jumped, so we spent a lot of time at schooling jumper, which now seems to have paid off. I really appreciate the fact that I had the opportunity to bring her from schooling jumper to winning a Nations Cup. I think that's pretty special, so thanks to my buddy Stewie and Two Swans Farm, who are the owners. She's got a big future."
Candice King had a more experienced mount in Kismet 50 for the night and was happy with two good rounds to contribute to the team's win.
"Coming into tonight I talked with Robert and we made a good plan and my biggest thing was having her conditioned and ready," King said. "I was very excited and I know what the team event is about, so I tried to come in here as strong as we could and put in a good, solid performance like we did. I am very happy with how it went."
"I have to say thank you to the Bellissimo family for giving me the opportunity when they wanted to change the rider of Kismet," King added. "It has just been a great ride all along, and we have been trying to form the partnership. She is a great character. She always comes to the gate to play the game and she knows how to go in there and put a clear round in. As long as I stay with her, she gives me everything she has and it has been a great few years. I'm looking forward to the next few years with her."
Engle was also pleased with her rounds aboard Royce to aid in a U.S. win as one of the most experienced riders in the evening's competition.
"He went great. He felt like he was actually going to be better the second round," Engle noted. "He's a trier. He's really laid back. It is easy for him."
Although he did not have to jump any rounds, Ward was there for his teammates with advice and support throughout the night.
"I told Todd the time allowed, that was my contribution," Ward joked. "It was a great team and I was there if I was needed and I am very thankful for them. They made my work very easy and so now I'll have to do a good job in the grand prix this weekend."
"The Nation's Cup is always a very hard thing for the course designer to build because you have a pretty large variety of level of riders," Ward said of the night's test. "There are some of the strongest in the world, and then you have some emerging countries looking for opportunities to compete at this level. You want to test the best ones without having the less experienced horse and rider combinations do too badly. I think he did a good job. It was a big enough course, and it was straight forward enough and out in front of you. I think from this class he's going to continue to build it a bit stronger for the Grand Prix and it will be a great class."
Finishing behind USA, team Canada placed second with 12 faults total. Tiffany Foster and Artisan Farms LLC's Tripple X III led off with a clear round and dropped one rail in round two. Jonathon Millar and Millar Brooke Farm's Calvin Klein had four faults in each round. Eric Lamaze and Artisan Farms LLC's Coco Bongo had a rail in round one, but came back clear in the second round. Ian Millar and Susan and Ariel Grange's Dixson dropped two rails in their first trip around the course, but returned with a clear in round two. They were led by Chef d'Equipe Mark Laskin.
All of Ireland's riders had faults in the first round, but they came back with two clear trips in round two and finished third on a 16-fault total. Darragh Kenny and Hyperion Stud LLC's Imothep had four faults in round one and the drop score of eight in round two. Shane Sweetnam and Spy Coast Farm LLC's Chaqui Z had the drop score of eight in round one, but came back with a clear in round two. Cian O'Connor and Adena Springs' Quidam's Cherie had four faults in round one, but also returned with a clear their second time around. Kevin Babington and Shorapur LLC's Shorapur scored four faults in each round. Their Chef D'Equipe was Robert Splaine.
The remaining teams were Venezuela in fourth place with 20 faults total, Mexico in fifth with 28 faults overall, and France in sixth with a 30-point total. Along with Minikus, only two other riders were able to clear the course without fault in both rounds.
Sofia Larrea was faultless for Mexico riding Monica Burillo's Jumex Sport Archimides. Venezuela's Pablo Barrios was the only other rider to clear both rounds with ZL Group, Inc.'s Zara Leandra.
Lisa Goldman and Morocco Win $10,000 Wellington Equestrian Realty CSIO Speed Stake
Friday's CSIO competition also included a $10,000 Speed Stake, sponsored by Wellington Equestrian Realty. The class saw 30 entries with ten clear rounds. Lisa Goldman (USA) was the winner aboard her own Morocco. The 12-year-old Oldenburg/Thoroughbred gelding (American-bred by Nancy Whitehead's Roc USA) blazed through the course in 59.66 seconds. Georgina Bloomberg (USA) and Gotham Enterprizes LLC's South Street finished second in 60.12 seconds. Laura Kraut (USA) and Cherry Knoll Farm's Constable II were third in 63.65 seconds.
"He has been unbelievable. I have had huge success with him," Goldman said of Morocco. "He is naturally incredibly fast, so I generally don't think about going fast on course, I just end up going. He doesn't have the biggest stride in the world, which I can actually take advantage of because he is really fast on his feet. I can kind of run him down the lines and make up time. He also turns on a dime. He turns like a barrel racer, so that helps. I had a lucky rub at the last jump, so I can't complain there."
From Illinois, Goldman graduated from Baylor University in Texas in 2012 and competed on their NCAA equestrian team. She spent the last few years showing in Ocala, FL, in the winter, but decided to bring her top horses to Wellington this year.
"This is my first time here in seven years," Goldman detailed. "This is my first week in the FEI classes, so it is really exciting to come down here and ride amongst the top people in the world and be able to represent USA with an American-bred horse."
"I wanted to see how my two boys would do down here, and it has been incredible so far," Goldman acknowledged. "The weather has been great. It is cooler today, which I love. I don't mind it being cooler for the horses. Today was really nice too because a lot of the girls from home in Chicago flew in to watch this weekend, so it was really exciting that they got to see me win. I have loved it down here and we are here the rest of the time, so we are just having fun."
Also showing on Friday, the $6,000 Spy Coast Farm 1.40m Speed Challenge was held in a California split with wins for Nicolas Pizarro (MEX) and Jacobo Zaga's Calvaretto in Section A and Abigail McArdle with David McArdle's Cosma 20 in Section B.
Julie Coles and Attila Take Home the Blue in the Ariat National Adult Medal
In the Rost Arena on Friday morning, nine amateurs took on the first course of the Ariat National Adult Medal. At the end of the first round, the riders with the top four scores returned for a test. Julie Coles, from The Plains, VA, tested last with Attila, a horse owned by Triochevaux LLC. With a first round score of 86, Coles went into the work-off in first place and kept her position. "Walking into the test I was a little worried about staying on course," Coles laughed.
Kristina Lyons and Picture This finished the day in second place after the work-off. Third place honors were awarded to Hannah Hlopak and Kaleigh Galvin rounded out the top four.
Two weeks ago Coles showed Attila for the first time in order to get Attila hunter and equitation experience. Attila recently moved over to the hunter and equitation ring after previously having a career as a jumper. With a great showing in the equitation today, Coles noted, "He [Attila] went great today! He is a really fun horse to ride. I don't get to show that much so it is nice to have a dependable horse."
Having recently sold her own hunter, Coles is enjoying the catch ride on Attila. The pair also competed in the Adult Amateur Hunters and won three out of the four over fences classes. "I'm so happy to have another hunter," Coles began, "He [Attila] is really fun, and I think he will be a great equitation horse."
While Coles enjoys being in the show ring, she is often thinking about how her trainer/daughter, Sloane Coles, is doing in the jumper ring. Coles smiled, "I get distracted. My brain is always in another ring where my daughter is showing."
Coles first came to the WEF in 1998 and leased her daughter a pony for three weeks. The following year the Coles family brought down their own horses and have been coming back ever since.
Competition continues in the International Arena on Saturday featuring the $34,000 Nutrena 1.45m Jumper Classic, $25,000 Suncast® 1.50m Championship Jumper Classic and Hollow Creek Farm Children's, Junior and Young Rider Nations Cup classes. Hunter action resumes with the Equestrian Sotheby's Small Junior 15 and Under in the Rost Arena. For full results and more information, please visit www.pbiec.com.
Final Results: $100,000 Nations Cup Presented by Kingsland Equestrian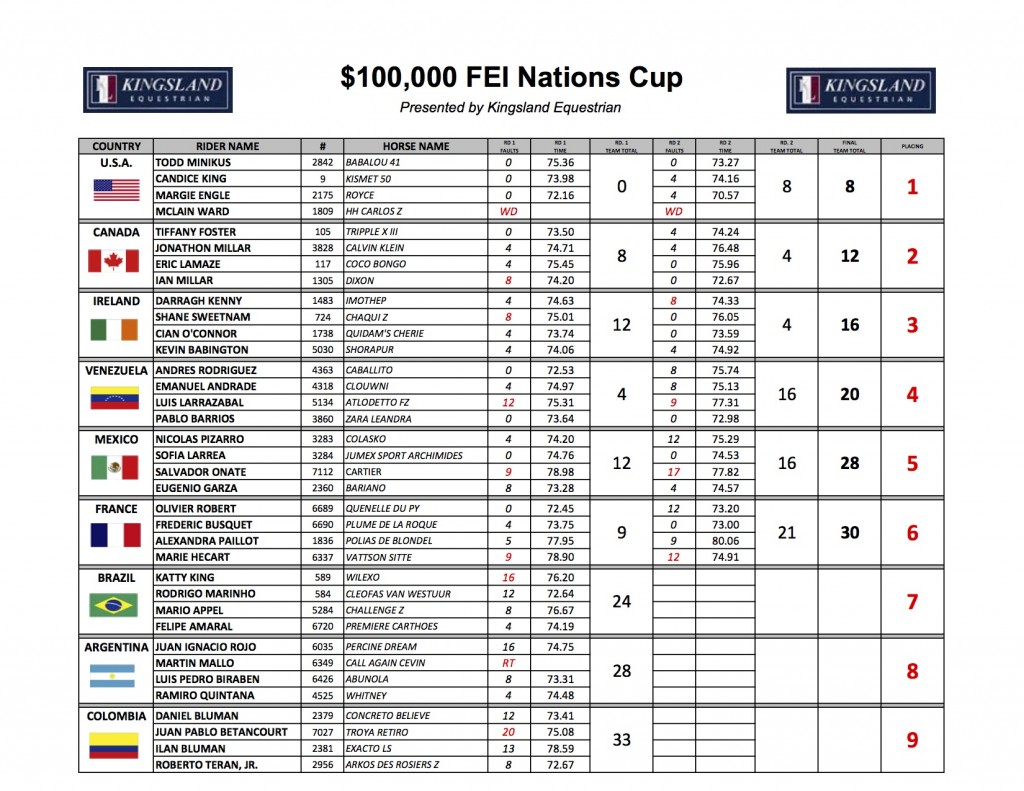 Final Results: $10,000 Wellington Equestrian Realty CSIO Speed Stake
1. MOROCCO: 2003 Oldenburg/Thoroughbred gelding by Roc USA x Unknown
LISA GOLDMAN (USA), Lisa Goldman: 0/59.66
2. SOUTH STREET: 2006 American Warmblood mare by Languster x Indorado
GEORGINA BLOOMBERG (USA), Gotham Enterprizes LLC: 0/60.12
3. CONSTABLE II: 2007 KWPN gelding by Harley VDL x Lupicor
LAURA KRAUT (USA), Cherry Knoll Farm: 0/63.65
4. ACAPULCO Z: 2005 Zangersheide stallion by Action-Breaker x Lux II Z
DANIEL ZETTERMAN (SWE), Gyllebo Farm LLC: 0/63.78
5. LA PETITE FLEUR 6: 2007 Oldenburg mare by Lexicon x Romino
ANDRES AROZARENA (MEX), Jorge Arozarena: 0/64.57
6. BIALDA: 2006 KWPN mare by Salvatore x Grosso Z
RAMIRO QUINTANA (ARG), St. Bride's Farm: 0/64.80
7. MERIDA 8: 2007 Irish Sport Horse mare by Metropole x Hildenley
MEREDITH MICHAELS-BEERBAUM (GER), Artemis Equestrian Farm LLC: 0/66.09
8. ZERNIKE K: 2004 KWPN gelding by Sam R 60 x H Topas
BRIANNE GOUTAL (USA), Remarkable Farms LP: 0/67.23
9. ZIPPO CG: 2004 KWPN stallion by Hold Up Premier x Quinar
JUAN PABLO PIVARAL (GUA), Luis Garcia: 0/68.62
10. B AMELUSINA: 2006 KWPN gelding by Sam R x Calando I
CALLAN SOLEM (USA), Horseshoe Trail Partners: 0/69.99
11. SIMON: 1999 KWPN gelding by Mr. Blue x Polydox
BEEZIE MADDEN (USA), Abigail Wexner: 3/84.46
12. BARANUS: 2003 Oldenburg gelding by Balou du Rouet x Centauer Z
IAN MILLAR (CAN), The Baranus Group: 4/61.63
Photo Credit: Photos © Sportfot, An Official Photographer of the Winter Equestrian Festival, us.sportfot.com. These photos may be used only in relation to this press release and must include photo credit.