Devon, PA – May 29, 2014 – The Devon Horse Show's famous Dixon Oval hosted an exciting evening of grand prix show jumping Thursday night as fans watched Ireland's Paul O'Shea and Primo de Revel jump to victory in the $100,000 Grand Prix of Devon, sponsored by Main Line Dental, Land Rover, and Horseshoe Trail Farm, LLC. In his first time ever competing at Devon, O'Shea took the victory gallop in front of thousands of cheering spectators in the highlight event of the week.
Olaf Petersen, Jr. set the course for thirty-one entries in Thursday's $100,000 Grand Prix of Devon with nine clear rounds to advance to the jump-off. Four riders qualified two horses each, including USA's McLain Ward and Laura Chapot, and Ireland's Paul O'Shea and Kevin Babington. The short course saw five entries jump clear in the second round.
O'Shea set the pace with the first double clear round aboard Gotham Enterprizes' River Dance Semilly in 43.63 seconds, which eventually finished fifth. Last year's winners, McLain Ward and Sagamore Farms' Rothchild, upped the ante in the next round, stopping the clock in a blazing 40.79 seconds to place third. Laura Chapot and Quointreau Un Prince, who she owns in partnership with Ward, put in the fourth place round in 41.95 seconds. O'Shea went next with his second mount, Primo de Revel, and raced to the winning time of 38.95 seconds. The final clear jump-off round belonged to Todd Minikus and the Quality Group's Quality Girl, who jumped into second place in 39.63 seconds despite breaking a rein on the third to last jump.
Primo de Revel, owned by Michael Hayden, is a 13-year-old Belgian Warmblood gelding by Quinault x Lys de Darmen. O'Shea has had the horse for seven years and has had a great partnership with him, including 11 grand prix victories. Although they have had many wins, this was one of the biggest, and it was a great moment in the rider's career.
"What can I say? I loved it," O'Shea said of his first Devon experience. "The atmosphere is obviously very special here. The crowd really gets into it, and it is just an incredible atmosphere and feeling here. I originally came to America through Harry Gill and Sherry Robertson, so I actually lived 20 minutes from here when I first came to America. I wasn't at the show, but I know the area, so it is nice to be back here again."
Commenting on the trust that he had in Primo de Revel to really go for the win in the jump-off, O'Shea detailed, "I have had him seven years now, so we know each other very well, and he is an extremely competitive horse. He is very rideable. He has a very good canter, so you can go quite fast on him and he doesn't get long and flat. He is experienced against the clock. I watched McLain go, and I thought I just had to go as fast as I could. Everything worked out tonight."
"He has been great since the start," the rider further described. "He has a fantastic mind; that is his best trait I think. From one show to the next I never jump him because he is so easy, which is very unusual. He is just so balanced, and he just knows what to do. Obviously I don't want to do too much with him, so I keep him fit on the flat and maybe jump once or twice for the first show of the year, but after that he just competes. I think that atmosphere here tonight helped him a little bit too. Some horses might get worse, but it actually raised him up."
Last year's winner McLain Ward did his best to defend his title with Rothchild this year, but ended up third. "He's been here a few years. He won here last year when it was a little bit of a slower jump-off," Ward noted of Rothchild. "Where I went in the order, it was the right round. It was just an amazing jump-off. Todd is one of the fastest riders in the world and Paul kicked his butt. I don't think it was going to be very easy to beat him tonight. I don't think there was much room."
Thursday's Grand Prix kicked off the 2014 Taylor Harris Insurance Services Triple Crown Challenge. As the night's winner, O'Shea will have the opportunity to claim a $200,000 rider bonus if he and Primo de Revel can go on to win at the Hampton Classic Grand Prix and then again at the National Horse Show Grand Prix in Kentucky. O'Shea accepted a special award as the winner of the first leg of the challenge. For his grand prix victory, O'Shea was awarded with The Celeste McNeal Harper Perpetual Trophy. He was also presented with the Richard E. McDevitt Style Award, earning The Richard E. McDevitt Style Trophy donated by Mr. Wade L. McDevitt.
Final Results: $100,000 Grand Prix of Devon
1. PAUL O'SHEA PRIMO DE REVEL MICHAEL HAYDEN: 0/0/38.951
2. TODD MINIKUS QUALITY GIRL QUALITY GROUP: 0/0/39.633
3. MCLAIN WARD ROTHCHILD SAGAMORE FARMS: 0/0/40.798
4. LAURA CHAPOT QUOINTREAU UN PRINCE LAURA CHAPOT & MCLAIN WARD: 0/0/41.953
5. PAUL O'SHEA RIVER DANCE SEMILLY GOTHAM ENTERPRIZES LLC: 0/0/43.633
6. KEVIN BABINGTON SHORAPUR SHORAPUR LLC: 0/4/40.861
7. MCLAIN WARD HH ASHLEY DOUBLE H FARM: 0/4/42.266
8. LAURA CHAPOT ISHD DUAL STAR MARY CHAPOT: 0/4/42.562
9. KEVIN BABINGTON MARK Q KEVIN BABINGTON: 0/4/43.355
10. KELSEY THATCHER ATHENA PONY LANE FARM: 4/76.522
11. LILLIE KEENAN PUMPED UP KICKS CHANSONETTE FARM LLC: 4/77.039
12. SYDNEY SHULMAN QUIDAM 13 BACK COUNTRY FARM: 4/77.121
Mindful and Kelley Farmer Top $25,000 USHJA International Hunter Derby
A $25,000 USHJA International Hunter Derby was held on Thursday afternoon, presented in honor of Kenneth and Sally Wheeler, with a win for Kelley Farmer of Keswick, VA, riding Glefke & Kensel LLC's Mindful. Mindful, a 10-year-old Hanoverian gelding (Graf Grannus x Bold Indian), won his first derby with Farmer just a few weeks ago in Kentucky after transitioning out of the jumpers this winter. He was also presented with the High Performance Hunter division championship on Wednesday.
"He is an amazing animal," Farmer stated after their win. "Everything I have asked of him, he has not only given it to me, but far beyond. He has a ton of ability. He is so rideable, and the harder you ask him, the harder he tries."
Thirty-three entries showed in the first round of Thursday's hunter derby competition over a natural course set by Allen Rheinheimer of Zionsville, IN. The exhibitors were scored by two panels of judges, including Jack Towell and Chris Wynne on panel one and William Ellis and Brian Lenehan on panel two. The top twelve scoring entries from round one returned in reverse order over a second-round handy course to determine top honors.
Hayley Barnhill and John and Stephanie Ingram's Airport 48 earned the high score of 184.5 to finish first in round one and added 204 points in round two to place second overall with a 388.5-point total.
Jennifer Alfano and Billie Steffee's Maggie May earned the second highest score in round one of 176.5 and scored a 193 in round two to finish third overall with 369.5 points.
Farmer had the third, fourth and fifth place scores in round one and finished first, fourth and ninth overall with her top three mounts. Farmer showed five horses in the class, all owned by Glefke & Kensel LLC. Mindful took the win, earning the third best score of 176 in round one and moving up to earn the top score of 217 in round two for a 393-point total. Scripted finished fourth with 360 points after scores of 176 and 184 in the two rounds of competition.
Barnhill was also aboard a new mount who has transitioned from the jumpers with Airport 48 and competing in his second derby. The pair finished second behind Farmer and Mindful in their Kentucky win as well.
Barnhill noted, "He was so great. I could not have expected him to be better. We got him as an equitation horse for Martha Ingram, but he is seeming to be very 'huntery.' He is amazing at this job."
With Barnhill ahead in round one, Farmer knew she needed an impressive handy round to pull off the win, and Mindful put in a fantastic performance.
"The only way I was going to beat her is if I did what I did," Farmer detailed. "I didn't know if it was possible to catch her, but I figured I would try. He is light on his feet, and he is so athletic. Anything I have asked of him that I thought was on the verge of not possible, he has done, and he has done easily. Every time I have walked in the ring and there was something hard, he has delivered completely."
Jennifer Alfano was also very happy with her top finish aboard Maggie May, a young mare that she has brought along since the Pre-Green division. "I could not be happier with her. She just started doing the derbies this year, and she has actually been quite consistent. She really stepped up today, and I was thrilled with her," Alfano stated. "She's getting the hang of the derby thing, so I am excited about the future for her. I think she likes it, and it is great to see her progress. She was really quite green when we got her and she was a little slow coming along, but it has been worth it."
The 2014 Devon Horse Show will continue on Friday with the start of Amateur-Owner Hunter and Jumper competition. For full results, please visit www.devonhorseshow.org.
For those unable to attend the Devon Horse Show in person, the Dixon Oval is being live streamed on the USEF Network.
Shownet will be shooting individual video clips for purchase through the website www.shownet.biz of both the Dixon Oval and Gold Ring. If you have any questions, please contact info@shownet.biz or ask for Tony in the exhibitor lounge at the side gate.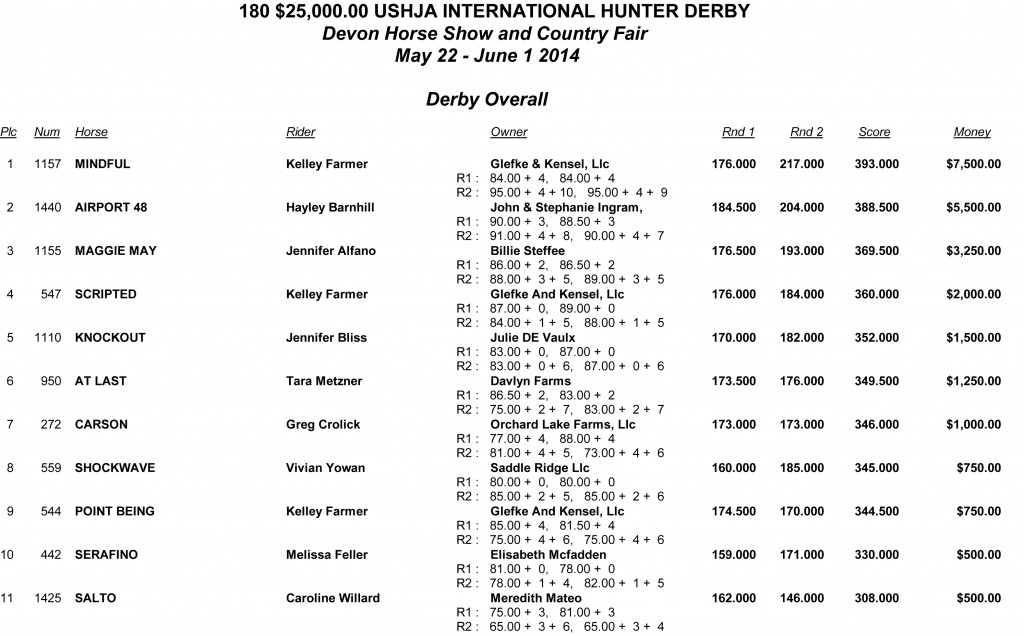 THURSDAY RESULTS
Coaching – Timed Obstacles – Tucker Johnson and Johnson Brewster Road Coach
Sponsored by Main Line Dental – Awarded the Vicmead Coaching and Driving Club Perpetual Trophy donated by George A. Weymouth
Three-Gaited Park Horse Open – Jan Lukens and Completely Caveat
Sponsored by by Elisabeth Goth
Single Hackney Horse Open – Jeromy S. Smith and Brickell Robert
Sponsored by Mr. & Mrs. Glenn A. Werry, Jr. – Awarded The Devon Victory Perpetual Trophy donated by Jane McElree
Five-Gaited Saddle Horse Amateur – Allyson Ehle and Nancy Ehle's Ava Gardner
Sponsored by Willisbrook Farm
Five-Year-Old Young Jumper – Clear Rounds:
Devin Ryan and Lori Larrabee's Eddie Blue
Maggie Jayne and Alex Jayne's Jolita
Colin Savaria and The Coverboy Group's VDL Electra
Colin Savaria and Amanda Flint's VDL White Chocolate
Six-Year-Old Young Jumper – Melissa Ruderhausen and Undelie de Roset
Seven-Year-Old Young Jumper – Devin Ryan and Eagle Valley Partners' Cooper
Eight-Year-Old Young Jumper – Laura Chapot and Mary Chapot's Castellana
Fans Get Rare Opportunity to Meet Guy McLean
By Caroline Goldstein
Equestrian enthusiasts lined up this afternoon at the Devon Kids souvenir booth for the chance to have world-renowned trainer Guy McLean autograph a Breyer version of his horse Nugget.
Guy McLean is an Australian horse trainer and bush poet who has been performing in exhibitions this week at Devon. McLean wows the crowd with absolute mastery of his horses and entertaining wit. McLean's remaining appearances are Friday at 3:15 pm and 9:25 pm and Saturday at 1:40 pm and 9:15 pm.
The "Nugget" edition of the Breyer horse comes with a DVD explaining McLean's training techniques and highlighting his and Nugget's careers. McLean will sign the horse itself. The horse costs $60 and can be purchased at the signing. McLean chatted with fans as he personalized each Nugget replica he signed.
"This is the first time we have had the opportunity to have someone come and sign the Breyer horse at the booth," said Souvenirs Chairman Molly Klinges. "Guy is so friendly. The kids and adults are thrilled to meet him."
Devon Souvenirs has sold a signed Breyer horse before, but this is the first time that a trainer will be on site to personally sign the Breyer horses. The signing is partially modeled after Breyerfest, which is an event the Breyer company holds every year that includes having trainers and riders autograph their signature horses.
If you missed it today, no worries (as they say Down Under)! There will be another chance to meet McLean on Saturday from 3 to 4 p.m. outside of Devon Kids by the Picnic Grove.
About The Devon Horse Show & Country Fair
May 22 – June 1, 2014
The Devon Horse Show on Facebook
The Devon Horse Show on Twitter: @devon1896
The Devon Horse Show on Instagram: @devon1896
The Devon Show Horse Show & Country Fair, founded in 1896, is the nation's oldest and largest multi-breed outdoor horse show. It is one of 16 United States Equestrian Federation (USEF) Heritage Competitions. The 11-day event attracts over 100,000 visitors annually and is one of the largest volunteer based fundraising events in the country. Proceeds from the event benefit Bryn Mawr Hospital. While attracting top competitors from around the world for events such as the $100,000 Grand Prix of Devon (Thurs., May 29), the event remains one of Philadelphia's premiere traditions, offering great food, boutique shopping, and rides, games, and events for the whole family. Tickets are on sale now, click HERE to purchase!