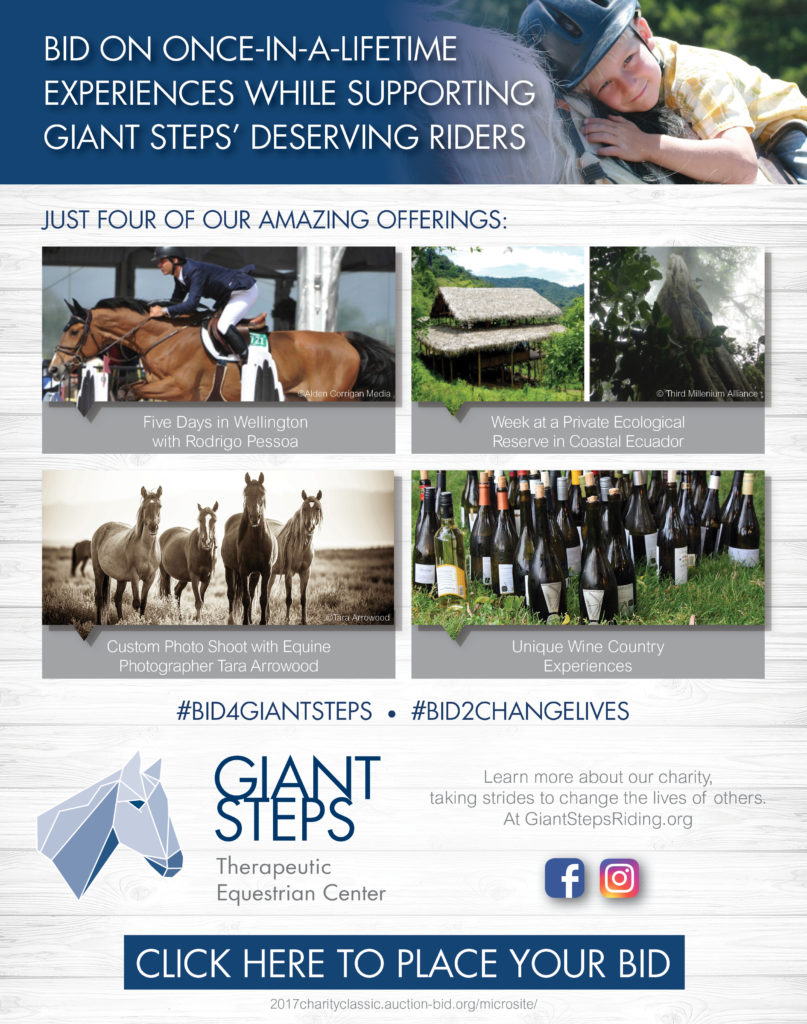 It's easy to bid from your computer, tablet, or phone. See the online bidding instructions below.
Share this with family and friends – you can bid from anywhere with a connection!
#Bid4GiantSteps  #Bid2ChangeLives
HOW TO BID ONLINE
For first time bidders, follow these easy steps from a laptop:
1. Visit this link
2. Click "Register" in the top righthand corner
3. Enter your information, including your credit card information (you won't be charged unless you win an item, and information is not saved once the auction is over, we promise!)
4. Make sure to toggle the bar to agree to Terms and Conditions
5. Click "Register"
6. You will receive confirmation via email/text, with a link to the site
7. Click the link, then the "Items" tab
8. Click the item you wish to bid on
9. Type an amount, and click "PLACE BID/BUY NOW"
10. You should get a confirmation on the screen. If you do not, the bid did not go through.
11. Click "Return to Shopping" to browse more items!
OR REGISTER BY TEXT: simply text GSTEC2017 to the number 24700 and follow the prompts
BUY NOW OPTION: Just have to have an item? Enter the "Buy Now" price to purchase, and it's yours!
IF YOU ARE OUTBID: If another bidder outbids you, you will receive an "outbid notification" via email/text and then you can bid again!
SET A MAX BID: Make sure to take advantage of the "Max Bid" feature—the system will bid for you, up to your maximum price.
THE AUCTION ENDS ON 8/5/17: The auction closes at 9:00 pm on Saturday, August 5th. Winners will receive notification via email/text
ITEM PICK UP/DELIVERY: Items will be available for pickup for those attending the Giant Steps Charity Classic on Sunday, August 6, 11-3 pm. If you are not able to collect the items, we will contact you after the show to arrange for shipping or delivery. Items must be paid for prior to collection. All items must be obtained by or shipped to the purchaser no later than four weeks after the close of the auction. Items not retrieved within that timeframe will result in voiding the sale and any funds received by Giant Steps will be reclassified as a charitable contribution.
TAX: Winners will be charged sales tax as applicable in the state of California, 8.125% of the purchase price.
---
The 8th Annual Giant Steps Charity Classic is a five-day horse show that showcases top regional, national and international equestrians. Over $100,000 in prize money is at stake as horses and riders of all ages and levels compete throughout the week in exciting events, all of which benefit the programs at Giant Steps Therapeutic Equestrian Center. This year's dates are August 2nd to 6th. More information at: giantstepsriding.org