Sarpsborg, Norway – August 14, 2017 – Kingsland Equestrian is pleased to announce that their new MASTER collection is available in the United States. Featuring designs and details created exclusively for the Kingsland MASTER collection, the clothing has essential fit and function.

To see a special video of the new MASTER collection, click here: http://bit.ly/2rhq9gb
The MASTER Show Jackets allow full flexibility with highly technical, four-way stretch materials that are water-resistant, dry quickly, have maximum breathability, and are machine washable. A soft mesh lining adds to the rider's comfort and allows airflow between the jacket and the body.
Progressive style lines and details such as logo buttons and an embossed logo insert at the collar offer a sophisticated, classical design.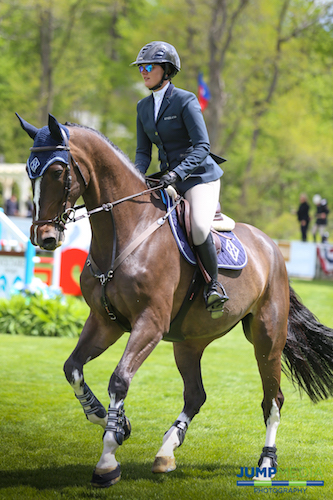 Maggie McAlary in the ring wearing her Kingsland "Elvira" MASTER show jacket.
Photo © Jump Media.
Show jumper Maggie McAlary of Double H Farm feels that her MASTER show jacket fits like it's custom-made.
She explained, "It keeps me feeling and looking good. I think it's important to feel comfortable in what you wear, and it's an added bonus to also feel stylish. I love the trim on the collar as it gives it a little extra pop without being over the top. I love my Masters coat!"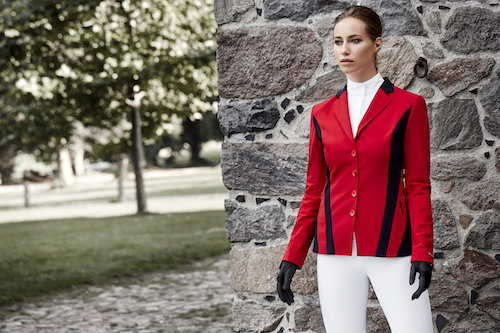 The "Sila" MASTER Ladies Sporty Show Jacket comes in four colors.
The MASTER collection includes a wide variety of styles and colors to suit both the needs of the jumper and dressage competitor. For show jumpers, there is the "Sila" MASTER Ladies Sporty Show Jacket, which is available in four colors. Show jumpers can also choose the "Elvira" MASTER Ladies Feminine Show Jacket. For men, there is the "Samson" MASTER Sporty Show Jacket and "Emesto" MASTER Show Jacket.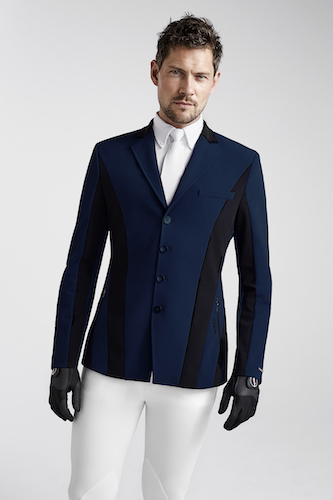 The "Samson" Men's show jacket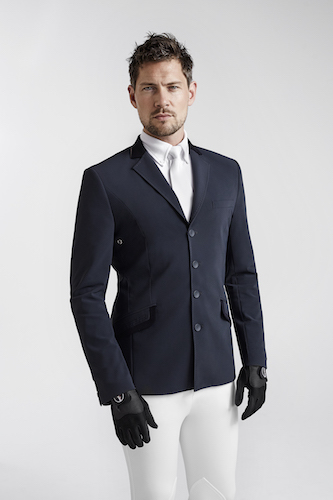 The "Emesto" Men's show jacket
Up-and-coming grand prix show jumper Tina Yates loves the fabric and tailored fit of her "Elvira" MASTER show jacket.
"The fabric is lightweight, breathable, and most importantly, elastic," she said. "You never feel restricted in the shoulders or the back, which is important for comfort and for those certain times you need a little extra release! On show days I'm in my show coat all day, so it's important to have a coat so comfortable, lightweight, and of course, stylish!"
The "Fairen" Ladies dressage show jacket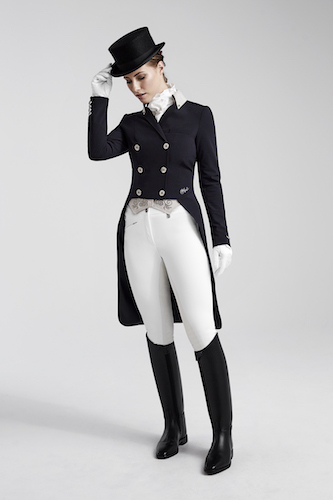 The "Devica" Ladies dressage tailcoat
The collection brings design and sophistication to the dressage ring with the "Fairen", the MASTER Ladies Dressage Show Jacket, and ladies looking for a tailcoat can choose the "Devica". The "Donahue" is the MASTER Men's Tailcoat. Dressage riders will be dressed to the nines in new tailcoats with exciting collar shapes, Swarovski stone decorations, and black enameled buttons.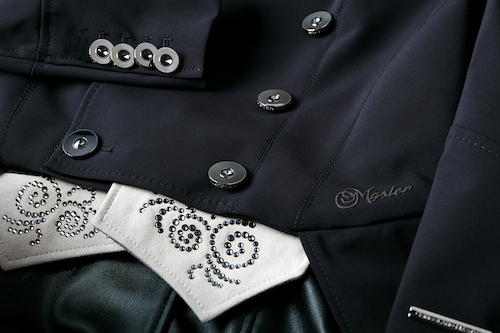 Details on the Kingsland MASTER dressage tailcoat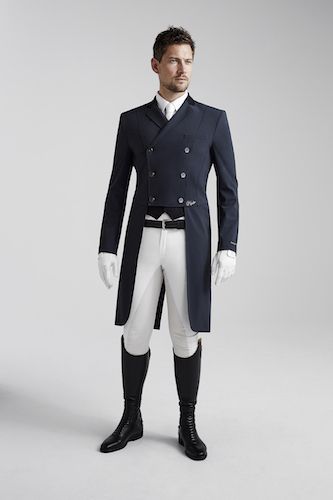 The "Donahue" Men's dressage tailcoat
To see Kingsland MASTER show jackets and purchase in the United States, check your local retailers or click HERE.
Tailcoats are also sold through Dressage Extensions, and several styles are available at the Spruce Meadows Shop.
About Kingsland Equestrian
Kingsland is a Norwegian brand created in 1999 that has grown to become one of the world's largest manufacturers of equestrian wear and horse gear. Kingsland has a reputation for its subtle blend of classic equestrian fashion and contemporary design. This combination, together with the use of top quality materials, has made Kingsland the favorite brand of many leading riders and equestrian professionals across all disciplines worldwide.
Kingsland is a major sponsor of top ranked riders and prestigious international shows. The brand's increasing popularity has led to the development of a whole new range of products, presenting numerous collections a year, including an exclusive dressage line, and also a wide range of quality casual wear. For more information, please visit www.kingslandequestrian.com.