Results of Pessoa Partnership Seen in the United States and Abroad
Wellington, FL – September 26, 2013 – G&C Farm has enjoyed success both at home and abroad this summer, fielding two competitive show teams across the United States and Europe. G&C Farm has collected top prizes at several of the best show jumping events in the world, including the Longines Global Champions Tour (GCT), the FEI World Breeding Jumping Championships for Young Horses, and the Vermont Summer Festival.
G&C Farm is owned by Gustavo and Carolina Mirabal of Venezuela and based in Wellington, Florida. The family competes as well as supports Olympic gold medalist Rodrigo Pessoa (BRA), up-and-coming riders Mark Bluman (COL) and Luis Larrazabal (VEN), and professional riders Gustavo Arroyo (VEN) and Luis Miguel Martinez (VEN).
Carolina Mirabal and G&C Leroy followed up their GCT victory in Monte Carlo with two more first place finishes in Chantilly and Dinard. Carolina and G&C Leroy won the CSI 1* 1.25m speed class at the GCT in Chantilly with a zero faults in a blazing 55.19 seconds, three full seconds faster than the second place finisher.

Watch a video of Carolina and G&C Leroy winning in Chantilly!
Gustavo Arroyo, who has been based in Europe, joined the G&C Team in Chantilly with G&C Quitador, G&C Jartrum, and G&C Tropigold.
Carolina and Leroy went on to the Dinard CSI 1*, where they also claimed the first place prize in the 1.30m class. The pair laid down a double clear performance, finishing the jump-off in 35.61 seconds. In her first outing at the CSI 2* level at the GCT in Lausanne, Carolina and G&C Leroy finished fourth in the 1.30/1.35m class.
Following Lausanne, both Carolina and Gustavo Mirabal enjoyed top ten placings at the GCT in Vienna. Gustavo rode G&C Omerta to sixth and seventh place in the CSI 2* 1.25m classes across two days of competition. Carolina and G&C Leroy also contested the CSI 2* 1.25m level, finishing third and fourth over the weekend.
Carolina and Gustavo Mirabal have clinched some of the best placings of their career while under the dedicated instruction of Rodrigo Pessoa, while Rodrigo Pessoa's uncle Helio Pessoa has coached Mark Bluman and Luis Larrazabal to much success in the United States. Gustavo Mirabal credits the Pessoas with elevating all of the G&C Farm riders to a new level.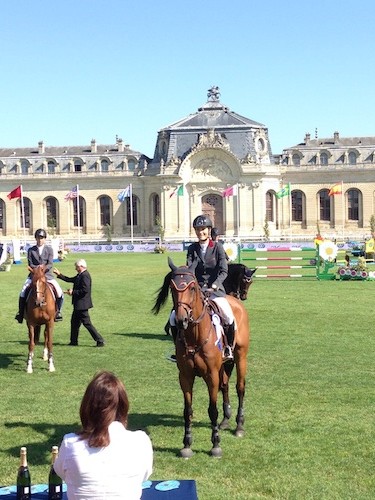 Carolina and G&C Leroy in another winning presentation.
"We are thrilled with our results this summer, and that is the direct result of the Pessoas' program. It has been just over a year that we have enjoyed our partnership with them and the results are clear. We consistently ride at a much more competitive level. Helio and Rodrigo Pessoa have had a huge impact on the G&C escuderia and we look forward to continuing our path of success," Gustavo Mirabal said.
Rodrigo Pessoa has also been invaluable in developing talented young horses for G&C Farm. At the FEI World Breeding Jumping Championships for Young Horses in Lanaken, Rodrigo Pessoa finished third overall with G&C Atlanta Z, a Zangersheide mare by Andiamo Z out of Heartbreaker.
The pair was ranked first going into the final day of competition after putting in the most consistent performance of the seven-year-olds. G&C Atlanta Z finished fourth and sixth out of over 200 horses during the first two qualifying rounds for seven-year-olds.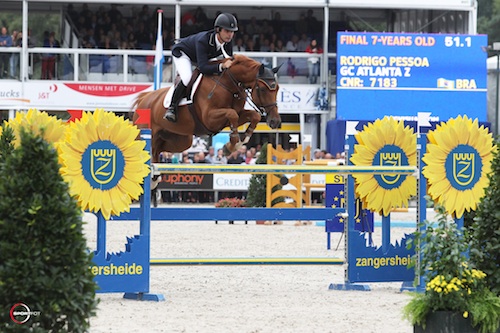 Rodrigo Pessoa and G&C Atlanta Z. Photo © Sportfot/Emmanuelle Hacker.
"G&C Atlanta Z is a horse that will win a lot of classes. She jumped very well this year. First she won several classes for young horses in Florida, and later she did the same in the international small tour," Rodrigo Pessoa described.
G&C Farm experienced success on both sides of the Atlantic under the tutelage of the Pessoas. Luis Larrazabal and Mark Bluman spent the summer in the northeastern United States under Helio Pessoa's tutelage. Following strong performances at the Devon Horse Show and the Upperville Colt and Horse Show, Larrazabal and Bluman headed north to the Vermont Summer Festival in East Dorset, VT.
After four weeks of competition, Mark Bluman was crowned the winner of the $10,000 Sir Ruly Inc., Open Jumper Awards for his results with G&C Blue, G&C Carla, and G&C LaGran.
Bluman won three of four open welcome stakes, including the $10,000 Manchester Designer Outlet Welcome Stake during week one, which he won with G&C LaGran and finished fourth with G&C Carla. Larrazabal finished third with G&C Flash in the class. Bluman won the $10,000 Not Your Daughter's Jeans Welcome Stake with G&C Blue and was fourth with G&C LaGran. He picked up his third welcome stake victory during the last week of competition of the Vermont Summer Festival. G&C Blue was again his winning partner in the $10,000 Theory Welcome Stake, in which Bluman was also third with G&C LaGran.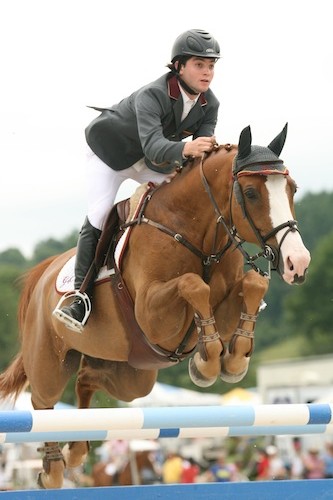 Luis Larrazabal and G&C Flash. Photo © David Mullinix.
Larrazabal and G&C Flash were also third in the $30,000 Vermont Summer Special Grand Prix. Bluman enjoyed a second place finish in the class with new mount G&C Carla. Larrazabal and G&C Flash finished fifth in the $30,000 Battenkill Grand Prix and in the $30,000 Manchester and the Mountains Grand Prix.
Bluman agreed that the Pessoas have hugely impacted both his and Larrazabal's riding this over the last year.
"I'm riding better and I know the horses better this year. I am more focused on winning. I trust my horses now and they're all jumping really well. Last year, we had just started with Helio and Rodrigo Pessoa. We didn't really know their system that well and now we do. We're paying attention and following directions and it's working out really well," Bluman commented.
Bluman wrapped up his summer season at the Kentucky National Horse Show in Lexington, KY. Bluman and G&C LaGran were tenth in the $75,000 Hagyard Equine Institute "The Betsy" Grand Prix. Bluman also finished fifth with G&C Blue in the $25,000 Prix de Lexington.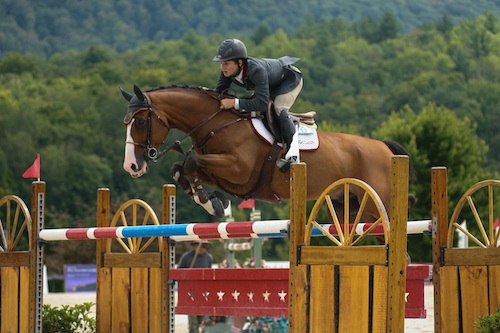 Mark Bluman and G&C Blue. Photo © David Mullinix.
While the rest of the G&C Farm team racked up the ribbons in Europe and the northern United States, trainer and rider Luis Miguel Martinez oversaw the operations of the G&C Farm home base in Wellington, Florida.
In August, Martinez took several of the youngest G&C Farm horses to Fox Lea Farm's September 'A' Show in Venice, Florida. Martinez and G&C Close Up were first in the Young Jumper Combination class, in which he also finished third with G&C Kay LS. Martinez and G&C Kay LS also placed third in the Level 4 jumpers.
While the G&C Farm riders and horses in the United States enjoy time off at home in Wellington, G&C Farm's European campaign continues. Gustavo and Carolina Mirabal will head to Oliva, Spain, to train with Gustavo Arroyo. Gustavo Mirabal is particularly eager to start working with two "super mares" that are new to G&C Farm. The mares will continue showing, along with Carolina Mirabal and G&C Leroy, at the Jumping Parma CSI 3*/CSI 1* in Parma, Italy November 22-24, 2013.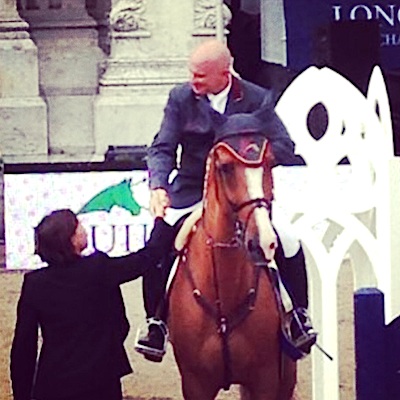 Gustavo Mirabal and G&C Omerta in their presentation.
G&C Farm will then head to Paris for the Gucci Paris Masters, where they sponsor the Leading Rider Award. They will present a check to the top two riders at the five-star competition.
The final show for G&C Farm in Europe will be the CSI 3* in Madrid. G&C Farm will return to the United States to give the horses and riders some time off before the FTI Consulting Winter Equestrian Festival in January.
For more information on G&C Farm, please visit their website at www.gandcfarm.com, like their page on Facebook, or follow them on Twitter.
G&C Farm brings exceptional horses and top jumper riders to the highest levels of competition. Their state-of-the-art, full-service facility is located in Wellington, FL.
The vision of G&C Farm is to improve the instruction and training of their top jumper riders and horses in order to seek a place at all high level tournaments and top competitions, including the World Equestrian Games and Olympic Games. G&C Farm sponsors Olympic gold medalist Rodrigo Pessoa, as well as other up-and-coming riders.