Wellington, FL – February 7, 2015 –Venezuela's Juan Carlos Maurin, Emanuel Andrade, and Victoria Karam were the winning team on behalf of Danny and Ron's Rescue at the sixth annual Great Charity Challenge, presented by Fidelity Investments® (GCC), on Saturday evening at the Palm Beach International Equestrian Center (PBIEC) in Wellington, FL.
A signature event of the 12-week Winter Equestrian Festival (WEF), this year's GCC will distribute approximately $1.5 million to 34 lucky Palm Beach County charities that were chosen at random to be represented in the pro-am team relay competition. Each team was made up of junior and amateur riders competing side by side with top professionals.
The winning team of Maurin, Andrade, and Karam, sponsored by Hollow Creek Farm and corporate sponsor Gold Coast Feed and Supply, earned the top prize of $150,000 for Danny and Ron's Rescue with the fastest combined time of the night in 88.43 seconds. The animal rescue was one of two wild card charities that were selected at random the night of the event.
Coming in second place was the team for Propel, sponsored by Back Country Farm as well as corporate sponsor Visse Wedell. The team of Sydney Shulman, Cloe Hymowitz, and Alexa Effron completed the course with a combined time of 88.55 seconds to earn $125,000 for their charity.
Kid's Cancer Foundation finished third and won $112,500. The team was made up of Darragh Kenny, Allison Epstein, and Andre Mershad, sponsored by Mershad Stables and corporate sponsors La Victoria Farm. They finished on 94.44 seconds.
The GCC features a sliding scale for the balance of the proceeds down to $15,000 for 34th place, ensuring that everyone is a winner.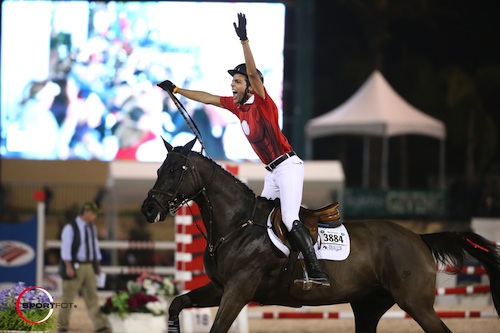 For the winning team, 18-year-old Emanuel Andrade has competed in the GCC for four years and was also on the winning team during the second annual event in 2011. He was thrilled to get another victory and support the winning charity.

"I think every event that I can do to help someone else is very important for me and for my life," Andrade stated. "I feel very lucky that I can do this to help someone else. I am happy that we won something that helped. It is something nice to do, and it feels so good."
Victoria Karam (16) shared Andrade's sentiments, adding that the riders had great team camaraderie heading into the ring. "We train together a lot and have a great bond between us," Karam said. "We are all from Venezuela, so we can work together and I'm proud of what we have done."
Juan Carlos Maurin was competing in the event for the first time and enjoyed his first experience in the competition, noting, "I have jumped these type of classes before, but not in the U.S. It was a fantastic experience. Helping the charities is what makes you be better and feel better about yourself. Helping this charity is something amazing for me and for them."
The GCC event has raised more than $6.4 million for over 100 Palm Beach County charities in the last five years. For Danny & Ron's Rescue, the chance to add $150,000 to their support of needy animals this year is a dream come true.
"We are quite overwhelmed. We never dreamed of getting picked as a wild card with as many charities that were in it this year," Ron Danta stated. "We were thrilled to hear our name called. Then to be able to get such an great team was amazing. We were thrilled to see who we were paired with. We knew they were going to be fast because we have seen them show before, but when they came in the ring, they were in it to win."
Danny & Ron's Rescue is a 501(C)(3) non-profit, no-kill rescue dedicated to saving and helping dogs in need. Partners Danny Robertshaw and Ron Danta have been saving and rescuing dogs for years and officially founded their rescue in 2005 after learning about the animals left homeless after Hurricane Katrina. Donations pay for food, medical care, spay, neuter, supplies, and housing for these adorable dogs. It will also assist those who cannot afford medical help for their own pets. Many dogs are considered unadoptable due to age or chronic medical problems. They rely on the support of generous donors to defray the cost of their medical expenses. If you can't adopt a dog, Danny & Ron's asks you to consider sponsoring a dog in need.
"This money does a lot," Danta stated. "We save dogs. We have placed over 8,600 dogs in homes since Hurricane Katrina. Even here in Palm Beach County, we take in so many dogs. We are very big into spay and neuter, so we go into communities where people don't have the money to spay and neuter and we do certificates. We also help the elderly that cannot take care of their pets. We supply all of their vet supplies and food and hire dog walkers. We also rescue cats and horses. We recently rescued 18 horses from Kansas City that were starving. We sponsor over 130 dogs a year. That is a very rewarding part of it. Our budget fluctuates because we never know what we are talking in, but this going to be a huge impact for our rescue."
Danta's partner, Robertshaw, was thrilled to be a part of the GGC event this year and expressed his appreciation for the efforts of their winning team and the support that their charity has received.
"We never thought it was going to become what it has, and we are still overwhelmed," Robertshaw stated. "I can't believe we are still doing this, yet all of the support makes us want to, so we are thrilled. Tonight we were so lucky to get in with that last draw and then so much luckier to get the team we got. We knew they would ride for us. We could not be more appreciative of the whole thing. It was a sensational night, and we thank all of you for that."
Many of the dogs that Danny and Ron rescue get adopted through horse shows and representative Kim Tudor spoke further about the support that the organization receives in the equestrian community.
"Danny and Ron's Rescue is an unusual charity here in the sense that we are already so supported by our horse show people and that is what keeps us going," Tudor noted. "Danny and Ron's peers support them and what they do for this rescue. We adopted 700 dogs last year to horse show people. Most of the dogs that are adopted on these show grounds are Danny and Ron's dogs. We appreciate all of the support we get from the horse show crowd and from Equestrian Sport Productions and the Bellissimos."
ESP CEO Mark Bellissimo spoke about the evening as well, acknowledging the great feeling it gives to see the GGC's benefit to the community.
"It is amazing when people start talking about where they are going to put the money," Bellissimo stated. "Everyone has a plan for what they received. To see people that are grassroots making a difference and spending so much time and effort in the community with the help of this event is spectacular."
"Thank you to the Andrades and Hollow Creek Farm," Bellissimo continued. "They have not only committed their major sponsorship for WEF, but to step up and support a team like this is amazing, and to win is inspiring for everyone."
"We would like to recognize the amazing top professionals that competed here tonight, including Ian Millar, Laura Kraut, Brianne Goutal, Darragh Kenny and Kent Farrington," Bellissimo added. "For riders like that to use their horses and compete in this event means a lot, and it shows the caliber of their character to support the GCC."
Anne Caroline Valtin, Executive Director of the GCC concluded the evening, thanking the Bellissimo Family for their support in making the evening a great success. "This would never happen without your support. Hats off to you," Valtin said to the family. "I know I am very passionate about this event and I believe in it, but I am overly grateful to have people behind me that truly believe in doing great things in the community. When you know that the answer is always going to be yes, you can do unlimited things and that's the situation I am in."
In addition to the issued prize money for the winning teams, nine grants were awarded throughout the evening. The following charities received additional grants:
YWCA Palm Beach – $10,000
Jack the Bike Man – $10,000
Clinics Can Help – $8,000
Friends of Foster Children – $6,000
Palm Beach Dramaworks- $5,000
Animal Rescue of South Florida – $5,000
YMCA of South Palm Beach County – $4,000
The Children's Healing Institute – $2,000
This year's GCC also featured a superhero theme with awards for the top costumes. Starwyn Farms team of Danielle Goldstein, Tori Corts, and Madison Newman won the Best Costume and $7,500 for charity, with Lothlorien team – Ian Millar, Emily Kinch, and Stevie Murphy – second for $5,000 and the team for Couch/Kerkorian third for $2,500 with riders Nicki Simpson, Kira Kerkorian, and Tara Couch. The Best Costume awards were presented by The Mershad Family.
More information on the competition and winning charities of the 2015 GCC will be available soon. For more information on the GCC, visit www.greatcharitychallenge.com.
Darragh Kenny and Quiz Capture $34,000 Suncast® 1.50m Championship Jumper Classic
Saturday afternoon at the 2015 Winter Equestrian Festival featured the $34,000 Suncast® 1.50m Championship Jumper Classic with a win for Ireland's Darragh Kenny and Spruce Meadows' Quiz in a challenging jump-off against the clock. Course designer Robert Ellis (GBR) saw 66 horses jump his first round course with 20 advancing to the jump-off, where six were able to complete the second track without fault.
Eugenio Garza and El Milago's Balloon jumped the first double clear in 43.93 seconds, immediately followed by Meagan Nusz and Amalaya Investments' SRI Aladdin in 42.53 seconds. The two finished fifth and third respectively.
Laura Kraut and Mike Collins' Ferox B soon jumped into the lead in 41.97 seconds, but eventually settled for second place when Kenny and Quiz took the top spot in 41.64 seconds.
Quentin Judge and Double H Farm's HH Donnatella finished fourth in 43.82 seconds. Nicolas Pizarro and Colasko, owned by Monica Burillo Eguia Lis and Pizarro, capped off the top six with a clear round in 49.71 seconds.
Kenny had a great year riding Quiz for owners Spruce Meadows last season and has continued into 2015 with great results. Kenny explained that the biggest factor in his success with the 11-year-old Selle Francais gelding (For Pleasure x Laudanum) has been to let the horse go in his own style.
"He has been super. He had a little time off last summer and then he showed a little bit. He came down here and was placed in two of the grand prix. He was placed in the 1.50m a week ago and he has been really good all circuit so far," Kenny detailed. "He felt really good today, and he is trying hard. I have learned how to properly ride him, so that makes a good difference. That means I can jump a lot more clear rounds and the horse has been great."
"You just have to leave him to do his own thing and try not to interfere," the rider noted. "He likes to be left alone and then he is just unbelievable. I just have to stay out of his way."
In a jump-off course where many riders took some unorthodox turns and different options, Kenny stuck to his strategy with Quiz and went for a smooth, concise track.
"A couple of people did six strides from jump one to two, and I knew that was not going to suit my horse, so I did seven and I kind of bent the turn so I could be tighter to the next jump," Kenny said of his round. "I was quite tight back on the liverpool. Quiz did the six strides to the double combination great. I went inside in the next turn and he was very good there, and then I think I was really tight to the second to last jump, and I think that is maybe where I got Laura."
Kenny will continue to compete Quiz in the Suncast® 1.50m Series throughout the circuit and looks forward to continuing their successful partnership.
Enough Said and Stephanie Danhakl Sweep Over Fences Classes in the Shamrock Ventures Amateur-Owner Hunter 18-35 3'3"
After two days of competition, Stephanie Danhakl, from Philadelphia, PA, piloted her own horse, Enough Said, to the Shamrock Ventures Amateur-Owner Hunter 18-35 3'3" championship. The pair won all four jumping classes with scores of 85 and higher both days. "One of the best things about him [Enough Said] is his consistency. Every round I go in, I know he is going to be the same," Danhakl commented about her horse's performance.
Reserve Champion honors in the division went to Elizabeth Kirby riding Darkest Hour, owned by The Party Girl Group. Darkest Hour was second and fourth over fences along with a second place finish in the under saddle.
Enough Said and Danhakl have been a partnership for the past year. They started competing together in the Amateur-Owner Hunter 3'3" during the 2014 WEF. "He [Enough Said] is amazing to ride. He is so smooth, he never changes pace, and he has a nice even way of going," Danhakl described her horse.
Despite a year of experience together, this week was only Danhakl's second show in three months. "I broke my collarbone and had to take about two and a half months off, so I'm just getting back into showing," Danhakl explained.
"I still feel rusty," Danhakl smiled. "I really trust my horse and I feel like we know each other really well, so it made it easier going back in the ring."
Originally from California, Danhakl grew up showing in Palm Springs, CA. However, for the past three seasons Danhakl has been coming to WEF and is excited to be in the winner's circle. "With the big competitive divisions [at WEF] it makes winning that much more special! One has to really rise to the occasion and ride his or her best to do well. There are so many great horses and riders, so it keeps me focused and working hard," Danhakl said.
When Danhakl is not competing she is working on her graduate degree in art history at the University of Pennsylvania. Currently, Danhakl is working on her thesis, which allows her to have flexible hours so she can travel to Wellington to compete.
Week five, sponsored by Ariat® International, concludes on Sunday, February 8, with the $127,000 Ariat® Grand Prix CSI 3* on the grass jumping field at The Stadium at PBIEC. The class will be live streamed starting at 2 p.m. Watch LIVE at: http://bit.ly/1KvCJu5.
The Antares Large Junior Hunter 16-17 concludes hunter coverage for WEF 5 tomorrow morning in the Rost Arena. For full results and more information, please visit www.pbiec.com.
Final Results: 6th Annual Great Charity Challenge, presented by Fidelity Investments®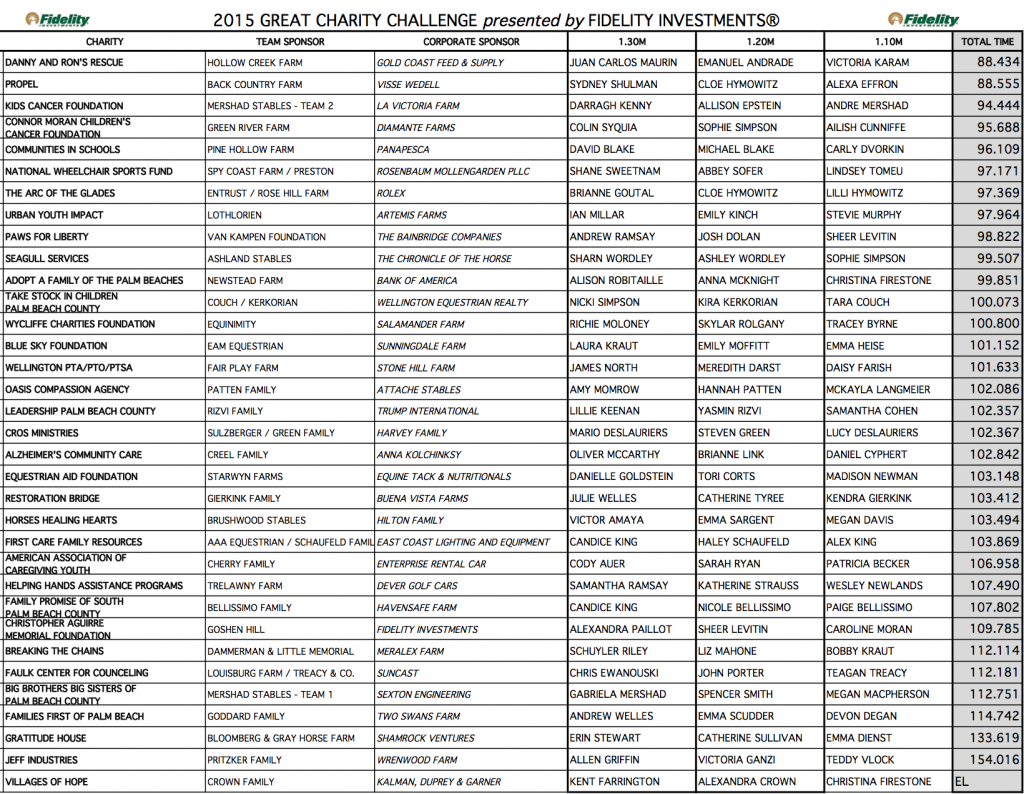 Final Results: $34,000 Suncast® 1.50m Championship Jumper
1. QUIZ: 2004 Selle Francais gelding by For Pleasure x Laudanum
DARRAGH KENNY (IRL), Spruce Meadows: 0/0/41.64
2. FEROX B: 2005
BWP gelding by Quidam de Revel CSF x Contender
LAURA KRAUT (USA), Mike Collins: 0/0/41.97
3. SRI ALADDIN:
2005 KWPN gelding by Quasimodo Z x Burggraaf
MEAGAN NUSZ (USA), Amalaya Investments: 0/0/42.53
4. HH DONNATELLA: 2003 Belgian Warmblood mare by Toulon x Mr. Blue
QUENTIN JUDGE (USA), Double H Farm: 0/0/43.82
5. BALLOON: 2003 Oldenburg stallion by Balou du Rouet x Landcapitol
EUGENIO GARZA (MEX), El Milagro: 0/0/43.93
6. COLASKO: 2005 Oldenburg stallion by Coleman x Granus
NICOLAS PIZARRO (MEX), Monica Burillo Eguia Lis & Nicolas Pizarro: 0/0/49.71
7. EXQUIS WALNUT DE MUZE: 1999 BWP gelding by Nabab de Reve x Chin Chin
HARRIE SMOLDERS (NED), Team Exquis: 0/4/41.78
8. WILEXO: 2003 KWPN gelding by Phin Phin x Calvados
KATTY KING (BRA), Carlos Ribas & Katty King: 0/4/42.15
9. ROSIERE VESQUERIE: 2005 Selle Francais mare by Narcos II x Arpege Pierreville*HN
LAUREN TISBO (USA), Tequestrian Farms LLC: 0/4/47.48
10. WILCO: 2003 KWPN gelding by Nabab de Reve x Fedor
EMANUEL ANDRADE (VEN), Emanuel Andrade: 0/4/49.45
11. CHECK PICOBELLO Z: 2006 Zangersheide gelding by Cardento x Orlando
ERIC LAMAZE (CAN), Artisan Farms LLC and Torrey Pines Stable: 0/4/52.20
12. COCO BONGO: 2005 Rheinlander stallion by Caretino x Calido
ERIC LAMAZE (CAN), Artisan Farms LLC: 0/4/54.16
Photo Credit: Photos © Sportfot, An Official Photographer of the Winter Equestrian Festival, us.sportfot.com. These photos may be used only in relation to this press release and must include photo credit.