Eduardo Menezes and Caruschka 2 Top $35,000 Illustrated Properties 1.45m Classic; Amy Heckler and Carfield Awarded Triple Crown Blankets Adult Amateur Hunter 36-49 Section A Championship
Wellington, FL – February 5, 2016 – Week four of the 2016 Winter Equestrian Festival (WEF) featured a busy schedule of competition, with jumper action on both sides of the Palm Beach International Equestrian Center (PBIEC) on Friday. The $35,000 Illustrated Properties 1.45m Classic was held in the International Ring on the main show grounds, with a win for Eduardo Menezes (BRA) and Caruschka 2 in the afternoon. The $25,000 Artisan Farms U25 Team Event, sponsored by The McNerney Family, was the highlight event in the International Ring at The Stadium at PBIEC in the evening. The competition saw a win for Team 3, which included Taylor Alexander, Emily Moffitt, Emma Heise, and Tina (DiLandri) Yates.
WEF 4, sponsored by Ariat®, continues through February 7, 2016, at the Palm Beach International Equestrian Center (PBIEC) in Wellington, FL. The week will feature the Great Charity Challenge presented by Fidelity Investments® on Saturday, February 6. Other highlights include the $35,000 Suncast® 1.50m Championship Jumper Classic on Saturday, and the $216,000 Ariat® Grand Prix CSI 4* in the WEF International Ring on Sunday. Also held on Saturday at The Stadium at PBIEC is the Asheville Regional Airport Wellington Eventing Showcase, presented by Wellington Equestrian Realty. All of these events will be live streamed at www.COTH.com. The 12-week WEF circuit runs through April 3 offering more than $9 million in prize money.
Seventeen teams made up of 65 riders in total contested a Richard Jeffery (GBR) designed course for Friday night's $25,000 Artisan Farms Under 25 Team Event, sponsored by The McNerney Family. The top eight teams them returned in reverse order of merit based on their scores from the first round.
Combining the scores from both rounds of competition, three teams ended up in a tie for top honors on eight faults. A tie-breaking jump-off was then held with one rider from each team to determine the final standings.
The winning Team 3 was made up of Taylor Alexander riding Alexander LLC's G&C Flash, Emily Moffitt aboard Poden Farms' For Sale 6, Emma Heise riding Old Willow Farms LLC's Quentucky Jolly, and Tina Yates aboard Highpoint Farm LLC's Zelote VDL, led by Chef d'Equipe Laura Kraut. Alexander, Moffitt, and Heise all train with Kraut and her partner, Nick Skelton, while Yates is trained by her husband, Jonathen Yates.
Alexander was the drop score of eight in round one, but returned to jump clear in round two. Moffitt was the only rider from the team to jump double clear. Heise had a score of four in round and a clear in round two, then jumped off for her team with another clear round in the fastest time of 34.99 seconds to secure their victory. Yates scored four faults in round one and another dropped four faults in round two.
Heise and Quentucky Jolly completed an unbeatable jump-off round that helped their team get the win. The 16-year-old rider from Chicago, IL, was competing in the event for the first time with the 12-year-old Selle Francais gelding (by Nirvana V) that she purchased at the end of last year's WEF circuit.
Speaking of their partnership, Heise stated, "He is very special. He likes to do his own thing and he is definitely one of my more technical rides. It was difficult for me in the beginning to figure out how to get him bent around me in the turns going to the jumps because he likes to shift in a lot. He has come so far in such a short time. We really stared clicking a few months ago and this is the third or fourth big class that I have done him in. He is going amazing, and I did not really expect for us to click so well."
"It has taken a little bit of time to get with him and stay on him, but he pulled through and jumped two amazing clear rounds," Heise continued. "My plan was to send it in the jump-off. Go hard or go home. There were only three, so we were going to end up on the podium, so I figured I would give it a shot. We were the first ones in, so I did not have too much pressure because if I watch more, then I would have been too nervous. Going first was nice because I set the pace and stayed on it."
Seventeen-year-old Emily Moffitt (Los Angeles, CA) was also competing in the class for the first time and jumped double clear aboard her mount, For Sale 6. Moffitt has only been riding the 10-year-old Westphalian mare (For Pleasure x Cassini I) for three weeks and was pleasantly surprised at the result.
"It was not in the plan to show her in this at all, so to have a double clear round is unreal," Moffitt smiled. "She is the best horse I have ever ridden; everything about her is perfect."
Taylor Alexander, of Castle Rock, CO, is 21 years old and competed in the Under 25 team event for the first time last year. Alexander was aboard her horse G&C Flash, a 14-year-old Hanoverian gelding (Forrester x Grannus), that she has had for two years.
"I got him as a seasoned horse; he has been there, done that, with a lot of people," Alexander noted. "It is really nice to go in there on a horse who has done it all and done Nations Cups before."
Yates (24) is from Scottsdale, AZ, and also competed in this team event last year. She bought her mount Zelote VDL three years ago and built the 12-year-old KWPN stallion (Chin Chin x Libero H) up to jumping the 1.40m level.
For Yates, competing in a team competition is a valuable part of any rider's education and the Under 25 event provides the riders with great experience.
"You are always competing as an individual, so to be a part of a team is a great experience, especially because I am sure we all have aspirations to be on some Nations Cup teams and represent Team USA," Yates said. "It is really great to come here and get a little feel for what that is like, and obviously winning is the icing on the cake."
Heise agreed, stating, "It is a good stepping stone and I like the team feel. We never get to compete on teams, and it is so much better winning with a team than it is by yourself."
Moffitt shared the sentiment, adding, "I think it is a great experience because it ups your pressure level a lot, but it is not from one extreme to the next; it gradually gets you ready for the big grand prix on Saturday nights."
Team 4 finished second for Canada, with Sarah Bagworth riding her own Goldfinger vd Hengstenpoel, Quincy Hayes on her own Calgary 56, Sarah Johnstone aboard Lillie Ann Morris's Bolocia, and Ben Asselin riding Attache Stables' Wahrhaftige.
Bagworth had the drop score of eight in round one and returned to jump a clear in round two. Hayes had four faults in round one and a second clear for the team in round two. Johnstone cleared round one and finished with the dropped score of eight in round two, and Asselin scored four in round one and cleared the second round track. Asselin then completed the jump-off with a clear round in 36.80 seconds to place his team in second.
Team 8, for Sweet Oak Farm, included Lacey Gilbertson and Seabrook LLC's Bijzonder, Noelle Barry riding Spy Coast Farm LLC's Venturo 9, Kaely Tomeu aboard Siboney Ranch's Gentille, and Brett Burlington with Alden Burlington's Bluf.
Gilbertson had four faults in round one and the dropped score of 13 in round two. Barry had the dropped score of nine in round one and returned to jump a four fault round. Tomeu and Burlington each jumped double clear for their team, and Burlington then returned for the jump-off, finishing on four faults in 38.02 seconds to secure third place honors overall.
Presented by The Dutta Corp. in association with Guido Klatte, the Artisan Farms Under 25 Grand Prix Series will feature four more events showcasing top young talent in show jumping sport this winter. For the final event of the Series, the top 30 riders in the point standings will be invited to contest the $50,000 CSI-U25 Artisan Farms Under 25 Grand Prix Final held on the derby field at The Stadium at PBIEC on Saturday, March 26.
Eduardo Menezes Tops 1.45m
The $35,000 Illustrated Properties 1.45m Classic was held in the International Ring at PBIEC on Friday morning with a win for Eduardo Menezes (BRA) and his 12-year-old Oldenburg mare Carushka 2 (Caspar x Continue). The pair beat out Kristen Vanderveen (USA) and Bull Run's Eternal by 4/100ths of a second with their winning time of 62.65 seconds. Vanderveen settled for second place in 62.69 seconds. Conor Swail (IRL) and Ariel and Susan Grange's Dillinger placed third in 63.22 seconds, and Shane Sweetnam (IRL) finished fourth in 63.59 seconds riding Spy Coast Farm LLC's Cyklon 1083.
Guilherme Jorge (BRA) set the speed track for 47 starters and yielded 13 clear rounds in total. Menezes explained that he went 38th in the order and had a good plan set by the time he entered the ring.
"Caruschka is like an ATM machine," Menezes stated. "If I have the best plan, then normally she is in at least the top three. She is really fast and really careful. This time I was late in the order, so I had time to watch some rounds and see where I could win a couple seconds and where I could also be a little bit more careful here and there, and the plan worked very well."
"I watched Eric (Lamaze) and I saw Conor Swail. They are both very fast riders," Menezes continued. "Eric took a little bit of a chance to the triple and I was maybe thinking of doing the same strides there. Then I saw him have one down, so I thought that was a place to save a little bit. Then Conor's round was pretty good, so I set my plan and it worked well."
Speaking on where he made up the slight 4/100ths of a second to take the lead, Menezes detailed, "I think the two lines, from jumps one to two and ten to eleven. My mare has a big stride, and instead of doing the lines straight, I bend the lines a little bit. I think that helped me because you can do it faster instead of slowing down. I think that makes the little difference."
Menezes and Carushka 2 will show again in next week's CSI 5* competition, once again contesting the 1.45m and 1.50m classes.
"She came to do these classes. She is a real speed horse and that is what she likes," he concluded.
Also showing in the International Ring on Friday, Kelsey Thatcher and Pony Lane Farm's Everything were victorious in the $2,500 MAYBACH – ICONS OF LUXURY High Amateur-Owner Jumper class. Silvana Cabral and Louis Pedro Biraben's Toulouse 66 topped the $1,500 Sleepy P Ranch High Junior Jumper class. The $6,000 Illustrated Properties 1.40m Speed Challenge concluded the day, pinned in a California Split with 122 entries. Todd Minikus and Plum Creek Hollow Farm's Con Capilot completed the fastest time overall to win Section A. Laura Chapot and her own BEC Hugo topped Section B.
Amy Heckler and Carfield Awarded Triple Crown Blankets Adult Amateur Hunter 36-49 Section A Championship
Amy Heckler topped the Triple Crown Blankets Adult Amateur Hunter 36-49 Section A aboard her own Carfield this Friday afternoon. Heckler, of Wellington, FL, has owned the nine-year-old Dutch Warmblood gelding since he was four years old and has piloted him to numerous championship honors during the pre-circuit shows at the Palm Beach International Equestrian Center. Heckler performed consistently this week with her gelding, earning three second-place ribbons and a third over fences. The pair also placed fourth in the under saddle.
Heckler, who took a 25 year hiatus from riding, purchased the gelding five years ago upon her return to show jumping. Training with Jason Clukey at Fox Stone Farm, Heckler has been competing consistently in the Adult Amateur divisions. Her trainer, Clukey, also shows Carfield in the professional divisions.
Heckler enjoys spending her winters in Florida. "This is my fifth winter coming down here," Heckler commented.
"I like that I have to push myself here even though I'm nervous," she added about the elite level of competition. "It is just a nice feeling of accomplishment," she explained of her win this week.
The pair has grown to know each other quite well during their five-year partnership. "He does not look at anything, (and) he is a very good boy. He is very easy going and very smart," Heckler detailed. "He has a lot of personality. It shows in the barn and the ring. I know what he likes to do and what he does not like to do," she added.
Heckler put in consistent rounds with Carfield over the two days of competition. "Everything just felt easy and relaxed and fun. He was really good," she said. Her main competition came from Sherri Geddes, who rode Geddaway Farm's Geddaway to the reserve title. The pair earned second, third, fourth and sixth over fences, and first place in the under saddle.
Carfield will take a week of rest during WEF 5 in preparation for World Championship Hunter Rider (WCHR) week, which takes place at the Palm Beach International Equestrian Center during WEF 6.
Hunter competition continues on Saturday, February 6, at PBIEC featuring the Bainbridge Amateur Owner 18-35 Hunters. Jumper action also continues in the International Arena with the $35,000 Suncast® 1.50m Championship Jumper Classic followed by the Great Charity Challenge presented by Fidelity Investments®, in the evening. For more information and full results, please visit www.PBIEC.com.
Final Results: $25,000 Artisan Farms U25 Team Event, Sponsored by The McNerney Family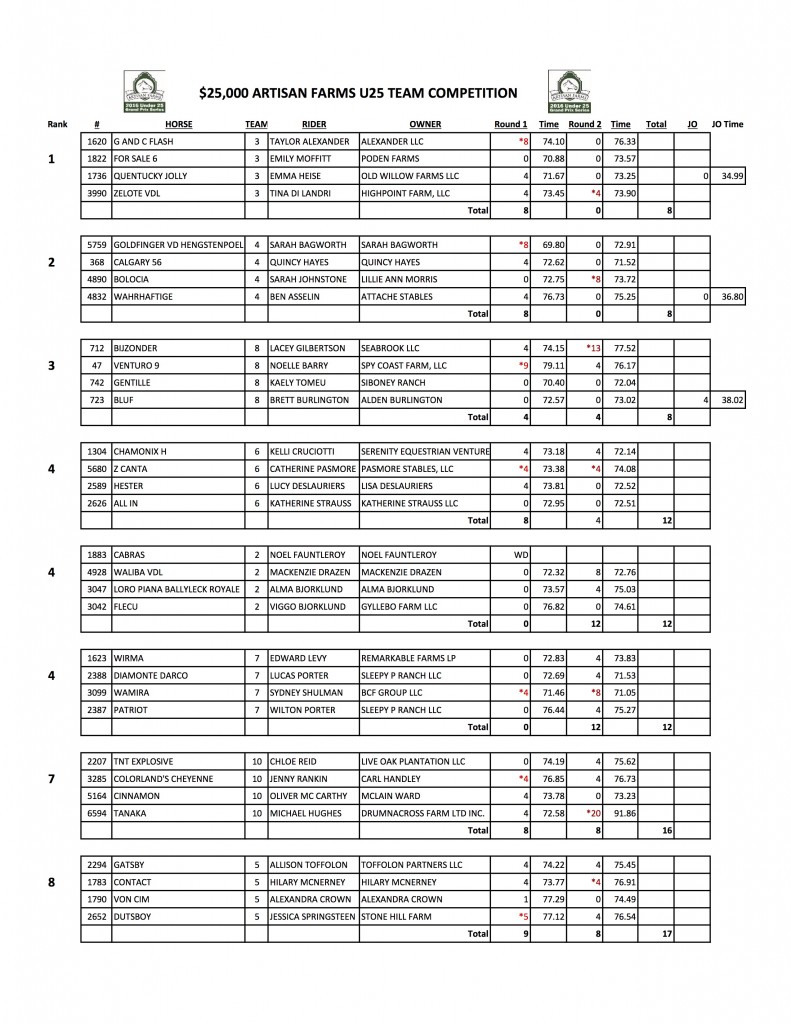 Final Results: $35,000 Illustrated Properties 1.45m Classic
1. CARUSCHKA 2: 2004 Oldenburg mare by Caspar x Continue
EDUARDO MENEZES (BRA), Eduardo Menezes: 0/62.65
2. BULL RUN'S ETERNAL: 2003 Belgian Warmblood gelding by Toulon x Mellinor
KRISTEN VANDERVEEN (USA), Bull Run Jumpers One LLC: 0/62.69
3. DILLINGER: 2007 Belgian Warmblood stallion by Contender x Capitol I
CONOR SWAIL (IRL), Ariel and Susan Grange: 0/63.22
4. CYKLON 1083: 2001 Swedish Warmblood stallion by Cardento x Cortus
SHANE SWEETNAM (IRL), Spy Coast Farm LLC: 0/63.59
5. QUOINTREAU UN PRINCE: 2004 Selle Francais gelding by Diamant de Semilly x Rosire
LAURA CHAPOT (USA), Laura Chapot & McLain Ward: 0/63.88
6. DOOLEY'S DELUXE: 2004 SACHS gelding by Dinglinger x Lesotho
VANESSA MANNIX (CAN), Vanessa Mannix: 0/68.25
7. ZERNIKE K: 2004 KWPN gelding by Sam R 60 x H Topas
EDWARD LEVY (FRA), Remarkable Farms LP: 0/68.57
8. HAPPINESS: 2007 Belgian Warmblood mare by Quadrillo x Burggraaf
YANN CANDELE (CAN), Watermark Group: 0/68.61
9. BE GENTLE: 2006 KWPN mare by Ticallux Verte x Gentleman
LILLIE KEENAN (USA), Chansonette Farm LLC: 0/70.06
10. AVALON 280: 2006 Westphalian gelding by Arpeggio x Potsdam
ELIZABETH GINGRAS (CAN), Erickson Halina Group Syndicate: 0/70.95
11. QUINIELA LA SILLA: 2005 SLS mare by Chapultepec la Silla x Quick Star
CELSO ARIANI (BRA), Celso Ariani: 0/71.18
12. AHMED DU CALVAIRE: 2006 Belgian Sport Horse gelding by Cerano x Landwind
ROSS MULHOLLAND (IRL), Frank Stronach: 0/72.30
Photo Credit: Photos © Sportfot, An Official Photographer of the Winter Equestrian Festival, sportfot.com. These photos may be used only in relation to this press release and must include photo credit.